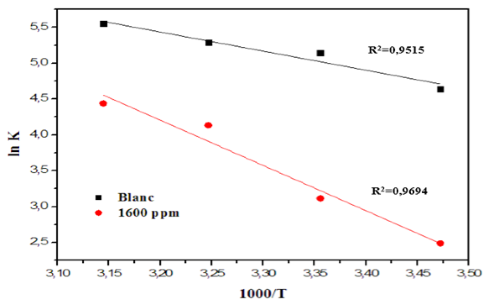 Inhibition of aluminum corrosion in 0.1 M Na2CO3 by Ricinus communis oil
Abstract
The study of the corrosion inhibition   of aluminum in Na2CO3 by the Ricinus communis oil was carried out by the two methods of polarization and impedance. Ricinus communis oil ensures an efficiency of 86.83% for the addition of 1600 ppm. Analysis of the polarization curves indicates that the Ricinus communis oil is considered as a mixed inhibitor. The results of   the temperature variation as well as the values of the activation energy show that Ricinus communis oil inhibits the aluminum corrosion   in 0.1 M Na2CO3 by physical adsorption.
Keywords: Aluminum; corrosion; inhibition; Na2CO3; Ricinus communis oil
DOI:
http://dx.doi.org/10.13171/mjc64/01705271612-hamdou
Refbacks
There are currently no refbacks.
Copyright (c) 2017 Mediterranean Journal of Chemistry