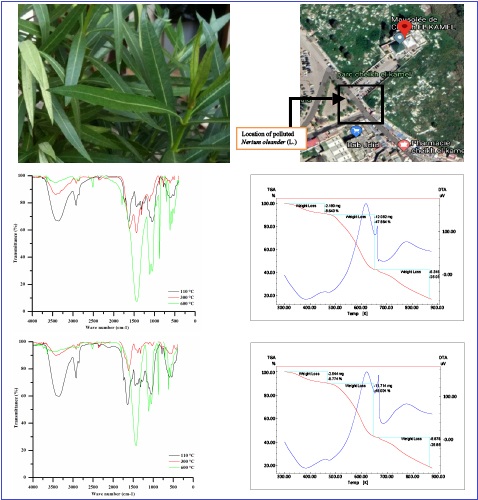 Phytochemical screening and analysis of heavy metals of Nerium oleander (L.) leaves
Abstract
The main objective of this research is studying phytochemical screening of the extracts of polluted Nerium oleander (L.), and unpolluted Nerium oleander (L.) collected from Meknes region (Morocco), and determination of metals concentration that can have harmful effects on human health. In addition, the study provides scientific data.
Studies have shown that the two extracts of polluted Nerium oleander (L.) and unpolluted Nerium oleander (L.) plant are rich in flavonoids, catechic and gallic tannins. In contrast, anthracene derivatives and flavonoids are absent. On the other hand, the comparative analysis of the results of atomic absorption spectrometry showed that the two plants of polluted Nerium oleander (L.) and unpolluted Nerium oleander (L.) contain a fairly high content of Na, Ca and Mg while the Pb concentration has exceeded the standard given by the WHO. While lithium and iron are present in low concentrations.
References
- A. A. Célia, G. Joana, N. Teresa, D. Márcio, C. Ana, P. Casimiro, K. Angeliki, Q. Xavier, C. Danilo, Size-segregated particulate matter and gaseous emissions from motor vehicles in a road tunnel, Atmospheric Research, 2015, 153, 134-144.
- G. S. James, Environmental Inorganic Chemistry for Engineers, Butterworth-Heinemann, 2017.
- E. L. Thompson, Indicators of Anthropogenic Change and Biological Risk in Coastal Aquatic Environments. In S. A. Elias, & J. K. Cochran (Eds.), Reference module in earth systems and environmental sciences, 2014, 3, 97-124. https://doi.org/10.1016/B978-0-12-409548-9.09106-5.
- P. Madejón, T. D. María, M. Engracia, C. Francisco, M. Teodoro, M. M. José, Soil-plant relationships and contamination by trace elements: A review twenty years of experimentation and monitoring after the Aznalcóllar (SWSpain) mine accident, Science of the Total Environment, 2018, 625, 50-63.
- N. Maizi, A. Alioua, T. A. Ali, F. Semadi, D. Fadel, The use of inferior plants as bioindicators of automobile lead pollution in the area of Annaba (Algeria), Journal of Materials and Environmental Science, 2010, 1, 251-266.
- N. Samira, K. Hossein, F. C. Angel, A. A. Jose, Using plane tree leaves for biomonitoring of dust borne heavy metals: A case study from Isfahan, Central Iran, Ecological Indicators, 2015, 57, 64-73.
- P. Madejón, M. T. Domínguez, M. Gil-Martínez, C. M. Navarro-Fernández, M. M. Montiel-Rozas, E. Madejón, J. M. Murillo, F. Cabrera, T. Marañón, Evaluation of amendment addition and tree planting as measures to remediate contaminated soils: The Guadiamar case study (SW Spain), Catena, 2018, 166, 34-43.
- L. Maria, M. M. Rita, O. Santino, Assessment of the quality of the air in the city of Palermo through chemical and cell analyses on Pinus needles, Atmospheric Environment, 2001, 35, 6435-6445.
- S. S. Ramon, A. C. R. A. S. Francis, G. L. Roberta, C. G. L. Catarine, F. O. Davi, J. A. Marcelino, T. A. Joaquim, Multi elemental analysis in Nerium Oleander L. leaves as a way of assessing the levels of urban air pollution by heavy metals, Applied Radiation and Isotopes, 2019, 152, 18-24.
- V. Bandara, S. A. Weinstein, J. White, M. Eddleston, A review of the natural history, toxinology, diagnosis and clinical management of Nerium oleander (common oleander) and Thevetiaperuviana (yellow oleander) poisoning, Toxicon, 2010, 56, 273-281.
- I. Khan, C. Kant, A. Sanwaria, L. Meenda, Acute cardiac toxicity of Nerium oleander/Indicum poisoning (Kaner) poisoning, Heart Views: the official journal of the Gulf Heart Association, 2010, 11, 115-116.
- J. Osterloh, S. Herold, S. Pond, Oleander interference in the digoxin radioimmunoassay in fatal ingestion, Jama, 1982, 247, 1596-1597.
- J. M. Calderón-Montaño, E. Burdos-Móron, M. L. Ortal, S. Mateos, M. Lópes-Lázaro, A hydroalcoholic extract from the leaves of Nerium oleander inhibits glycolysis and induces selective killing of lung cancer cells, Planta Med., 2013, 79, 1017-1023.
- E. Derwich, Z. Benziane, A. Boukir, Antibacterial activity and chemical composition of the essential oil from flowers of Nerium oleander, Electronic Journal of Environmental, Agricultural and Food Chemistry, 2010, 9, 1074-1084.
- V. Gayarthi, S. Ananthi, C. Chandronitha, G. Ramakrishnan, R.Laksmisundaram, H. R. Vasanthi, Cardioprotective effect of Nerium oleander flower against isoproterenol-induced myocardial oxidative stress in experimental rats, J. Cardiovasc. Pharmacol. Ther., 2011, 26, 96-104.
- M. Roni, K. Murugan, C. Panneerselvam, J. Subramaniam, J. S. Hwang, Evaluation of leaf aqueous extract and synthesized silver nanoparticles using Nerium oleander against Anopheles stephensi (Diptera: culicidae), Parasitol. Res., 2012, 112, 981-990.
- F. Zafar, N. Jahan, W. U. I. Zafar, S. Aslam, Comparative evaluation of phytochemical, mineral and vitamin contents of gemmomodified
extracts and leaves of two indigenous medicinal plants, International Journal of Agriculture and Biology, 2014, 16, 911-916.
- G. Zibbu, A. Batra, A review on chemistry and pharmacological activity of Nerium oleander L, Journal of Chemical and Pharmaceutical Research, 2010, 2, 351-358.
- A Kabata-Pendias, H. Pendias, Trace Elements in Soils and Plants, CRC Press, Boca Raton London New York Washington, 2001.
- H. A. Schroeder, Cadmium, Chromium, and Cardiovascular Disease, Ciculation, 1967, 35, 570-82.
- N. Mahmood, R.Nazir, M. Khan, R. Iqbal, M. Adnan, M. Ullah, H. Yang, Phytochemical Screening, Antibacterial Activity and Heavy Metal Analysis of Ethnomedicinal Recipes and Their Sources Used Against Infectious Diseases. Plants, 2019, 8, 454.
DOI:
http://dx.doi.org/10.13171/mjc10402004201366aa
Copyright (c) 2020 Mediterranean Journal of Chemistry