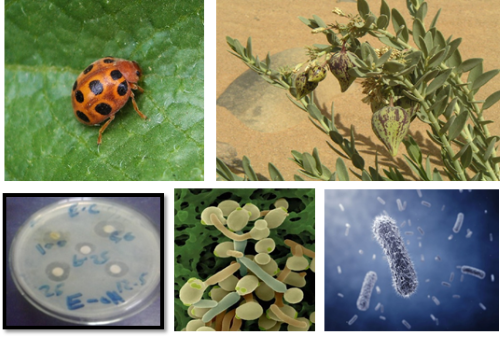 Beneficial antibacterial, antifungal and anti-insecticidal effects of ethanolic extract of Solenostemma argel leaves
Abstract
Solenostemma argel belongs to the Asclepiadaceae family, a desert plant wide spread in the centre and north of Sudan. Solenostemma argel leaves were soaked in 1000 ml of 80% ethanol with a 27.1% of yield. The phytochemical screening method was described and modified. The qualitative chemical screening of the crude and fraction extract to test the secondary metabolites showed the presence of alkaloids, flavonoids, terpenoids, triterpenes, saponnins and tannins.

The diffusion method has been used for four types of bacteria, two Gram-positive Bacillus subtilis and Staphylococcus aureus, and two Gram-negative Escherichia coli and Pseudomonas aeruginosa, and two types of fungal Aspergillus niger and Candida albicans. Higher growth inhibition zone diameters were obtained from Escherichia coli , staphylococcus aureus , pseudomonas aeruginosa , Aspergillus niger and candida albicans.

The Second larval instars of African melon ladybird beetle were used in this study in order to assist the insecticidal effect of Solenostemma argel leaves. Different concentrations (1.5%, 2.5%, 5%) were applied and the percentage of mortality was observed at 24, 48 and 72 hours.
References
Marston HK, Karine, Luc WJ, Institute de pharmacognosieet phytochimie Universite de Lausanne, bep,ch-Lausann, Swetzerland. 2000; 4: 973-1010.
Linda JB, David AA, Herbal medicines. The school of pharmacy second edition, University of London, UK). Pharmaceutical press. 2006.
Wickenes GE, Natural vegetation in the agriculture the of the Sudan, edited by CRAIG GM, Oxford University press, Oxford. 1991.
Tagelsir IM, Asma MA, Elfatih MM, Awad KT, Influence of argel (solenostemma argel Del. Hayne) soil applications on flowering and yield of date palm (phoenix dactylifearal) Agric Biol. Am JN, 2011; 2(3): 538-542.
Dall IG, Minesso AS, Micucci BP, Chiarini MA, Evaluation of muscarinic M3-receptor autagonism of solenostemma argel leaves plant med 2010; 76: 634.
Shayoub M, Haj E, A. Makawy A, Rasha R, Mona A, Adverse reaction of Solenostemma argel leaves, extraction and alkaloids tablets administered to patients. Global J. Trad. Med. Sys., 2013; 14-18.
El-Kamali HH, Khalid SA, The most common herbal remidies in Dongola province, Northen Sudan. Fitoteapia, 1996; 69: 118-121.
Awad KT, Khalid OA, Tagelsir IM, Sidahmed O, Argel (solenostemma argel Del Hayne) applications for control of the date palm green scale insect (Astrolicanium phoenicis rao) and yield enhancement. ARPN Journal of Agricultural and Biological science, 2012; 6-7.
Shafek RE, Michael HN, Antibacterial and antioxidant activity of two new kaempferol glycosides isolated from solenostemma argel stem extract, Asian Journal of plant Sciences, 2012; 11(3): 143-148.
H. H. El-Kamali HH, K.F Elkalifa KF, Treatment of malaria through herbal drugs in the central Sudan. Fitoterapia, 1997; 6: 527-528.
H.M. Elkamali, K.F. Elkalifa, Treatment of malaria through herbal drugs in the central sudan. Fitotorapia, 1997; 68: 527-528.
M. Al Dohairi M, A. EL Nadi A, Elhag E, Al Ayedh EH, Effect of solenostemma argel on oviposition, egg hatchability and viability of culex pipiens L. larvae. phytother Res., 2004; 18(4): 335-338.
Hag-ElTayeb FM, Taha AK, Mardiand HG, Sidahmed OA, Water extracts of hargal plant (solenostemma argel, Del Hanye) and usher (Calotropis procera Ait), Leaves as natural insecticides against mosquito larvae,Journal of science and Technology , 2009; 10(3): 59-67.
Mohammed Elkhatim OS, Azhari. Abdelbagi O, (Efficacy of Haragel, Solenostemma argel (Del) hayue, shoot extract for the control of the Cowpea beetle, Callosobruchus maculates, (coleopteran: Bruchidae). 3th Conference of Pests Management in Sudan February CPRC-ARC, Wad Madani Sudan 2014; 3-4.
Sidahmed OA, Eldoush KO, Taha AK, A note on the effect of aqueous filtrates of Argel parts (solenostemma argel Del Hayne) on the mortality of cotton soil termite (microtermes thoracalis sjost) (isopteran: Termitidae). U of K. J. Agric. Sci., 2009; 17(3): 413-318.
Eldoush AM, Taha AK, Idris TIM, Sidahmed OAA, Musa FA, Mardi HG, Application of plant based extracts for the control the green pit scale insect (Asterolicanium phoenicis Rao) with yield enhancement on date plam, Emir. J. food. Agric., 2011; 23(5): 404- 412.
Mardi HG, Evaluation of shoot powder of Hargal (solenstemma argel (Del) Hayne) as seed treatment against Asperogillus crown rot disease of ground paper presented during the diseases control session, the 88th meeting of the National pests and diseases committee, June Agricultural Research Corporation. Wad medani, Sudan, 2013.
El-Kamali HH, Mohammed Y, Antibacterial activity and phytochemical screening of ethanolic extracts obtained from selected Sudanese medicinal plants, Current Research Journal of Biological Science, 2010; 2(2): 143-146.
Kamel M, Ohtani K, Hassanin H, Mohamed M, Kasai R, Yamasaki K, Monoterpene and pregnane glucosids from solenostemma argel phytochemistry, 2000; 53(8): 937.
Hassan H, Hamed A, El-Emany N, Springuel I, Miyaoka H, Pregnane derivatives from solenostemma argel leaves phytochemistry, 2001; 57(4): 507-511.
Hamed AI, New steroids from solenostemma argel leaves fitoterapia 2001; 72(7): 747-755.
Murwan K, Sabah, Murwa E, Chemical composition, minerals, protein fractionation, and anti-nutrition factors in leaf of hargel plant (Solenostemma argel), Euro. J. Sci. Re, 2010; 34(3): 430-434.
Amariei D, Stanescu U, Gille E, Onisei T, the biosynthetic capacity of the active principles of in vitro regenerated solenostemma argel (SEL) Hayne, callus and shoots. Rev, Roum. Biol.Veget., Bucharest 1991; 38(1-2):71.
Kanerva L, Tupasela O, Jolanki RD, Occupational Allergic Rhinitis from Guar Gum. Clin. Allergy, 1988; 18(3): 245-252.
Kavanagh F, Analytical microbiology, Academic press. New York and London. 1972; p.11.
Refbacks
There are currently no refbacks.